Randy and Lori Breeuwsma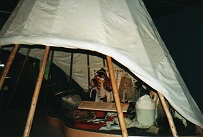 Karamat Wilderness Ways is owned by Randy and Lori Breeuwsma. Randy is a braintanner and primitive skills and modern survival practitioner. Lori is into natural crafting, crafting, primitive skills, and the needle arts.
In September of 1996, the Provincial Museum of Alberta (now known as the Royal Alberta Museum) commissioned them to build a 22 foot moose hide tipi along with 13 other replicas, which they completed for the museum's opening of the New Aboriginal Gallery in November of 1997.
They make replicas in various mediums, ship world wide and offer many different courses.